There aren't many things as exhilarating as live football over the season. Wins, defeats, stunning goals, unbelievable comebacks and heart-melting stories cover up all the happenings in top tier leagues across the world.
But maybe you are not done with just that. You crave a lot more on days where your favourite team isn't playing. What do you do then?
Well, we at Kasa Kai Mumbai rely on our old friend YouTube. The biggest video library in the world, YouTube provides hours of content on any topic −and hey, football is a gigantic scenario on here.
With tons of football related videos added to the popular video streaming site each month, we look at 5 of the best channels to subscribe to.
#5 −AFTV (formerly Arsenal Fan TV)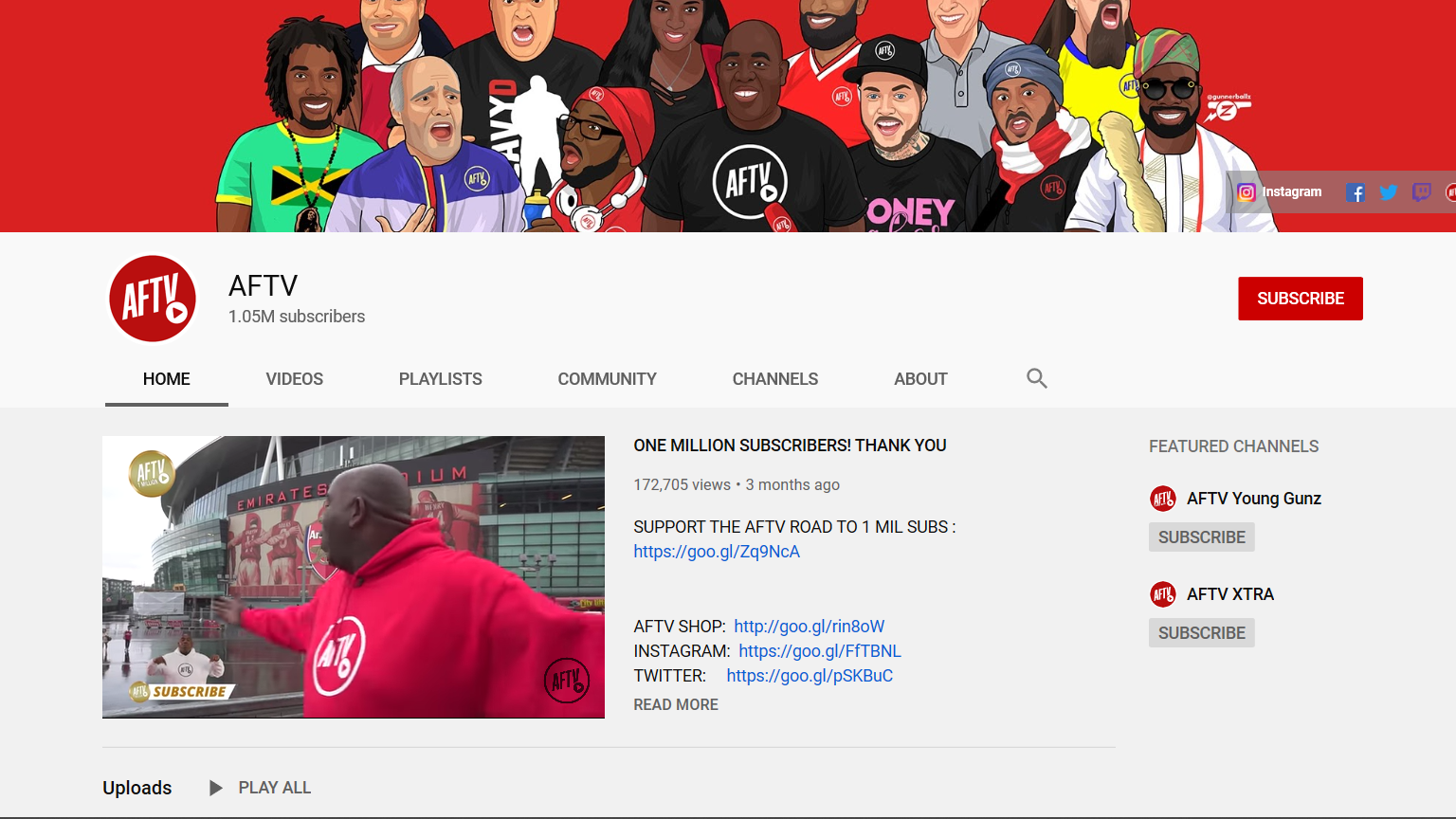 If you closely follow the Premier League, then you have definitely heard or seen bits and pieces of AFTV, either on YouTube or Facebook.
Consisting of majorly Londoners that support Arsenal FC through the good times and the worst, this channel is fan reaction gold, with the likes of Robbie, Troopz, DT and more coming up with some of the most intriguing reactions in their post match videos.
Consider somewhat toxic by fans of others teams and even a multitude group of Gooners, the channel has provided with moments that will forever associate them with the tumultuous time that the club has been going through.
There are many similar channels for clubs such as Manchester United and Liverpool, but with a subscriber count almost rivalling Arsenal's own YouTube channel (1.3 million vs 1 million), they have outdone every expectation.
That's not all though − they even have their own transfer speculation videos for the club as well as podcasts where they discuss the team's finances, owners and fanbases across
the world.
#4 −Brazil Scout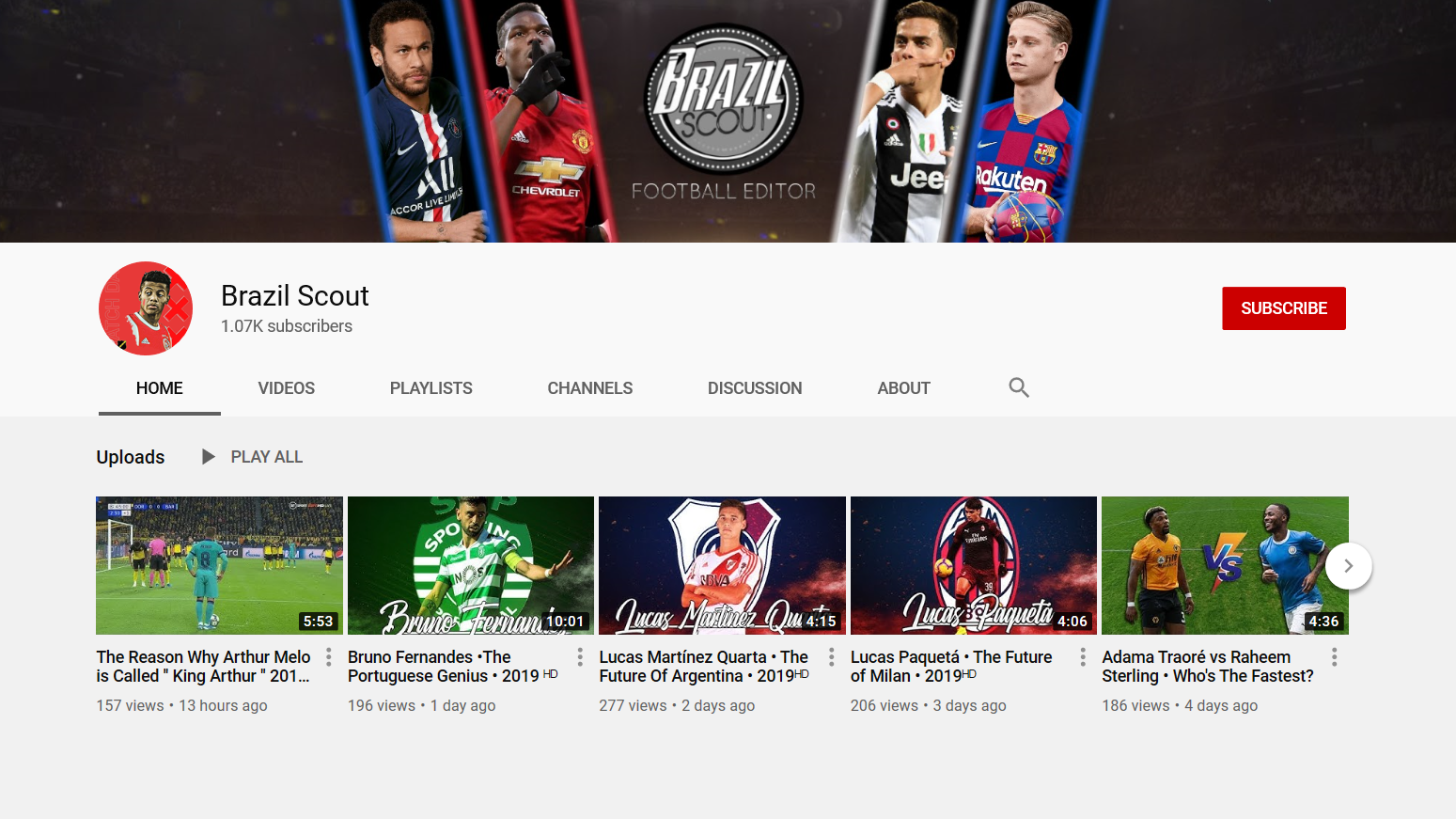 A relatively new channel on the scene with around 35K+ subscribers, Brazil Scout makes it to our list for doing what it does best −showcasing young football talents as well as potential signings through compilation videos and opening descriptions.
Most of these videos are part of the "Welcome To" series where the videos are uploaded when a well known club makes a move for a rising talent. These videos are about 6 to 12 minutes in length and present your club's potential signing in the most fashionable way possible.
Also, these videos are tailor made to fit the player's position and abilities −doesn't matter if it's a goalkeeper, defender or winger −you'll have a fun watch. We also recommend keeping tabs on the channel if you would like to get into coaching or scouting sometime in the future.
#3 − DW Kick off!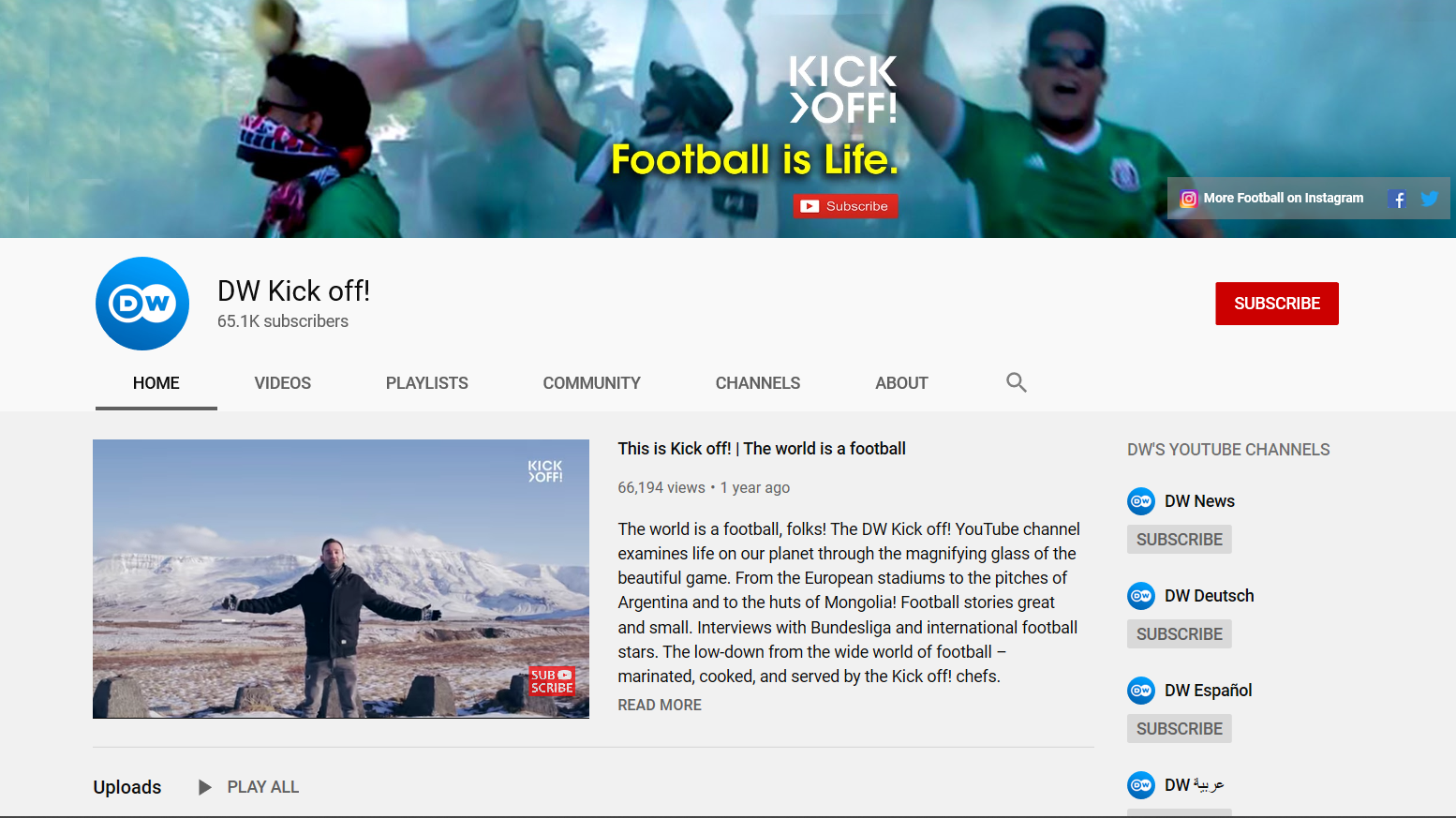 Part of the DW network of YouTube channels, DW Kick off is doing what most sports production houses stray away from −capturing the beautiful game from every possible country imaginable.
New talents in the USA, women's football in Zambia, Frankfurt's underdog status, etc. It has everything covered while also keeping tabs on the big leagues and the stories behind the players that make it the grand occasion that it is.
And that's not the end of it −they have statistical videos on game functions, football development news and a vlog‾like coverage of exciting football events as they go down!
#2 −Goal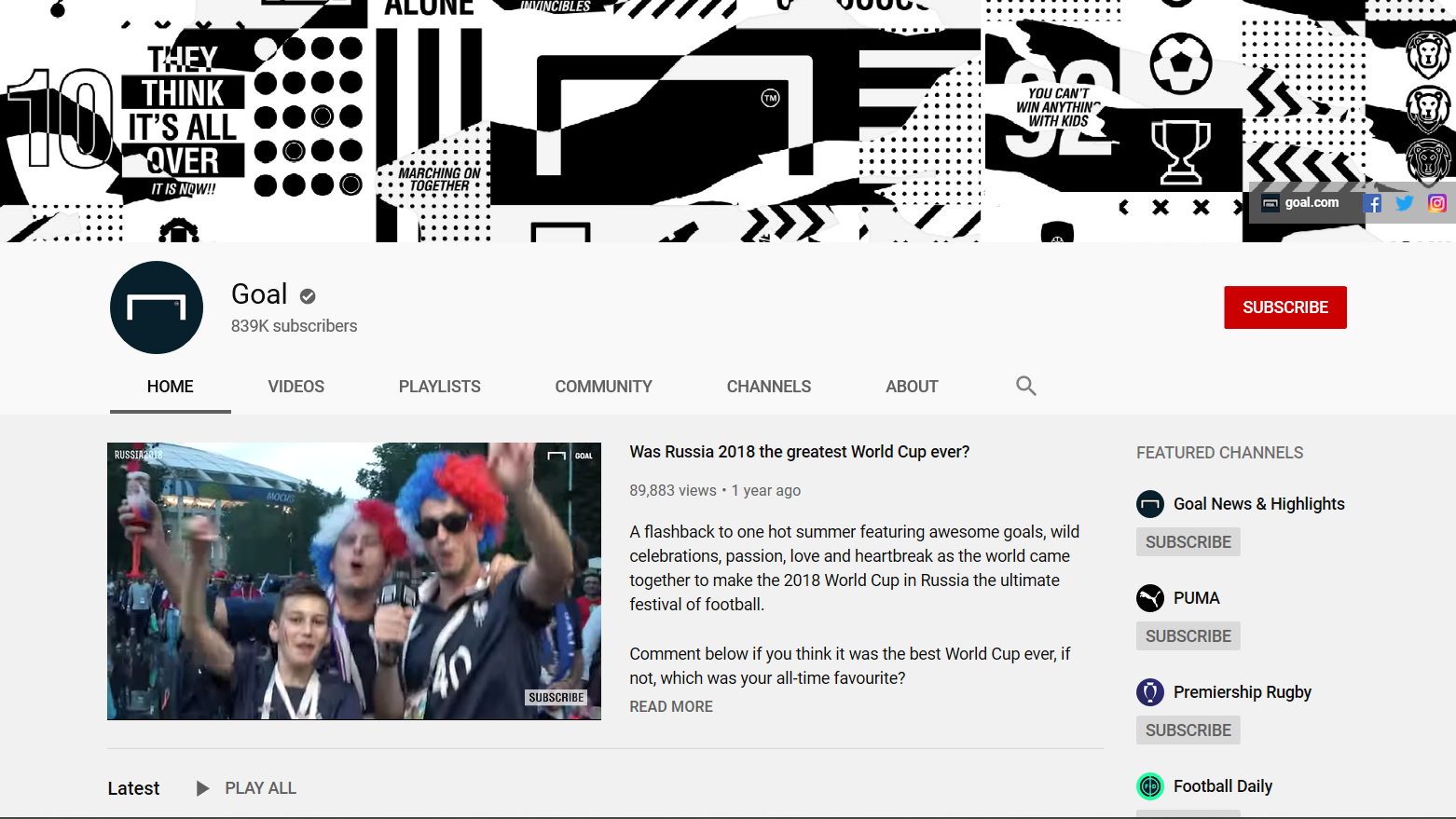 This one's a bit obvious for any fan that has watched football for a decade −Goal was and still is one of the best sources for football related info, trivia and stories from the planet.
With hundreds of videos on the world's favourite sport, Goal has a great reputation of bringing things forward as they are. They have everything from part‾by‾part documentaries to animated shorts to analytical videos. Oh, also transfer rumours because no football channel is ever complete without that.
Add in their pre/post game previews, Q&A sessions and player moments series, and you have a concoction that will cover all your footie needs.
#1 −Tifo Football (formerly uMAXit Football)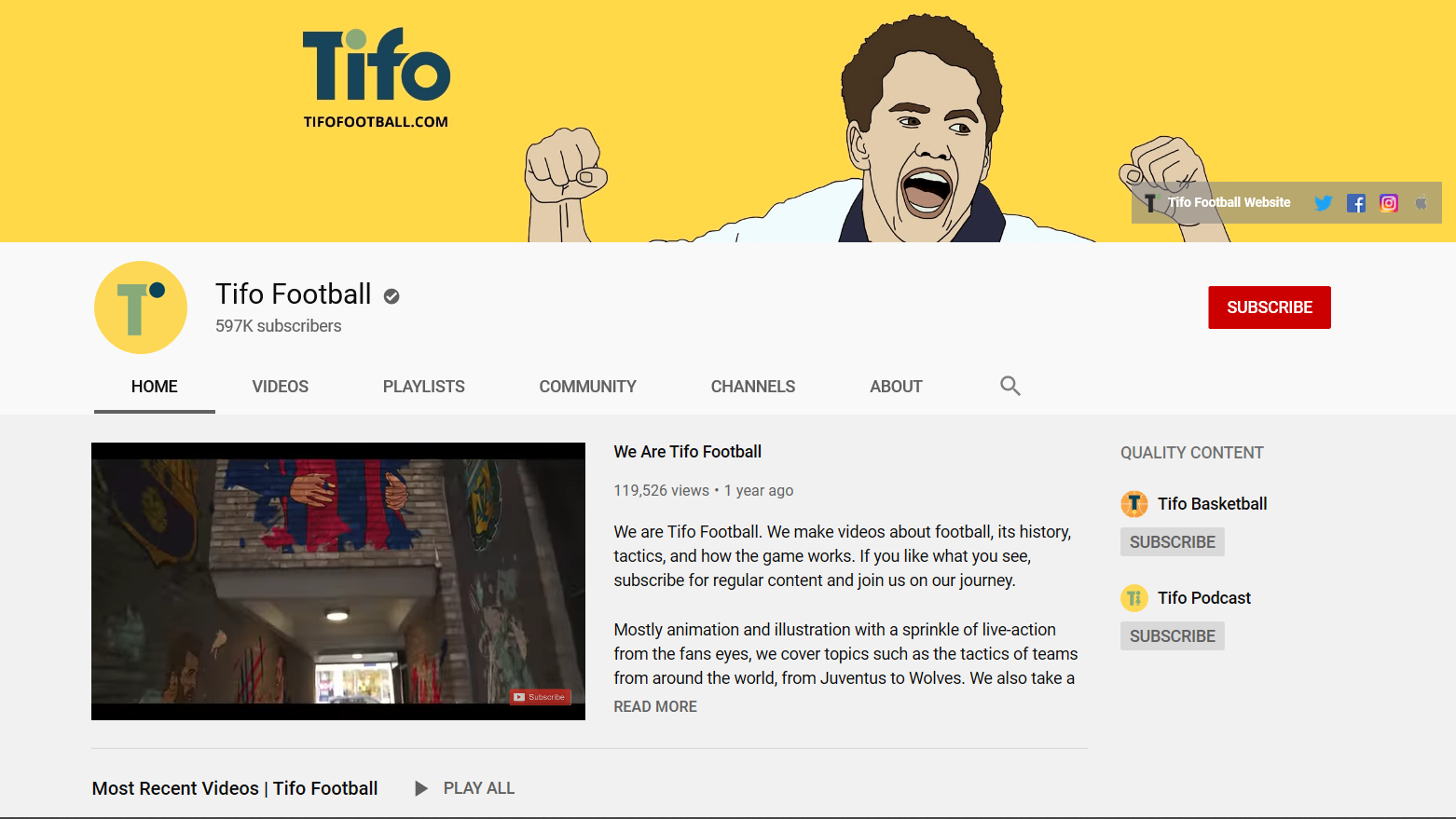 Tifo Football is by far the most vivid and informative channel we have come across by a mile.
With their illustrative and well narrated videos, they have made it easy for common people to understand the intricacies of the game.
The channel answers a lot of questions that maybe you have once asked yourself. There are also videos on tactics, formations, system implementations and grassroots development which help people from all over the world to better understand what the world of football actually shapes up as.
Their playlist includes videos specified according to players, location, owners, club, country and more, which gives you a lot of material to learn and be blown over by.
Add to that, they also have a very successful podcast which helps emulate their YouTube success in other platforms. These include top brass executives, former players and other important personalities in football −a very knowledgeable well to look into.
Conclusion
You don't have to set your eyes on a career related to football in order to follow and watch videos from these channels. For newcomers, the videos are a reliable primer that will help them grasp the game quicker. For casual football fans, it's more info you can use the next time you go at a match screening. And for those who know the ins and outs, well, the more you know the better.